Do you intend to Start A Small Finance Company in India? If that's the case then this article is for you only.
India has always been a land of opportunities. Several factors make this country an attractive destination for businesses. The population is huge and there is a growing middle class with disposable incomes. The economic reforms of the past few years have made it easier to do business in India. Last but not least, the government is now encouraging Small Finance Companies in India.
The demand for Small Finance Companies in India has been on the rise in recent years, thanks to the growing need for financial inclusion in the country.
The Indian finance sector offers enormous potential for new entrants. These Small Finance Companies provide a much-needed lifeline to small businesses and entrepreneurs who often find it challenging to get access to traditional banking products and services. However, it's not a difficult task to Start A Small Finance Company in India, but there are certain things that you need to keep in mind. Also, various regulations and requirements are there which need to be met.
This guide will walk you through the steps required to Start A Small Finance Company in India. We will also provide you with a list of resources to help set up your business. So, let's get started!
What is A Small Finance Company?
Small Finance Companies (SFCs) are a new breed of NBFCs (non-banking finance companies) that have been created to cater to the underserved segments of the population, such as women, small businesses, and rural areas. A Small Finance Company, also known as a Microfinance Company, provides financial services to small businesses and individuals with modest incomes.
Small Finance Companies in India are permitted to receive deposits and provide loans, but they are not permitted to accept demand deposits. Many individuals and businesses need help to meet the standards of traditional banking institutions, which demand a credit history and a significant amount of disposable cash. Micro-finance companies give financial resources to their consumers for personal or professional financial needs. Individuals, self-employed professionals, and corporations can realise their entrepreneurial dreams or meet a personal financial emergency by obtaining a modest loan from a Micro-Finance Company.
Lending Limitations of Small Finance Companies in India
Small Finance Companies In India are permitted to make loans of up to INR 50,000 in rural areas and INR 1,25,000 in urban areas to entrepreneurs, enterprises, and low-income individuals/households by RBI Notifications. It makes loans to small enterprises, entrepreneurs, self-employed professionals, farmers, and others with no collateral or minimal money. It can offer loans at fair rates set by the national government and the Reserve Bank of India.
Alternatives for Launching A Small Finance Company In India
There are 2 ways to Launch A Small Finance Company In India :
MFIs – Non-Banking Finance Companies (NBFCs) that are registered with the RBI.
Small Finance Company established under Section 8 of the Companies Act of 2013.
How to Start A Small Finance Company in India
Starting any business necessitates a thorough understanding of the customer's requirements. Furthermore, you must have a good business strategy in place that outlines the route to success. Similarly, you must have a step-by-step strategy for starting and growing your Small Finance Company in India. To satisfy the first finance criteria, it is necessary to follow rigorous restrictions. Before Starting your Small Finance Company, you must select whether you want your MFI to be a profit or non-profit organisation.
Starting a Non-Profit Micro-Finance Company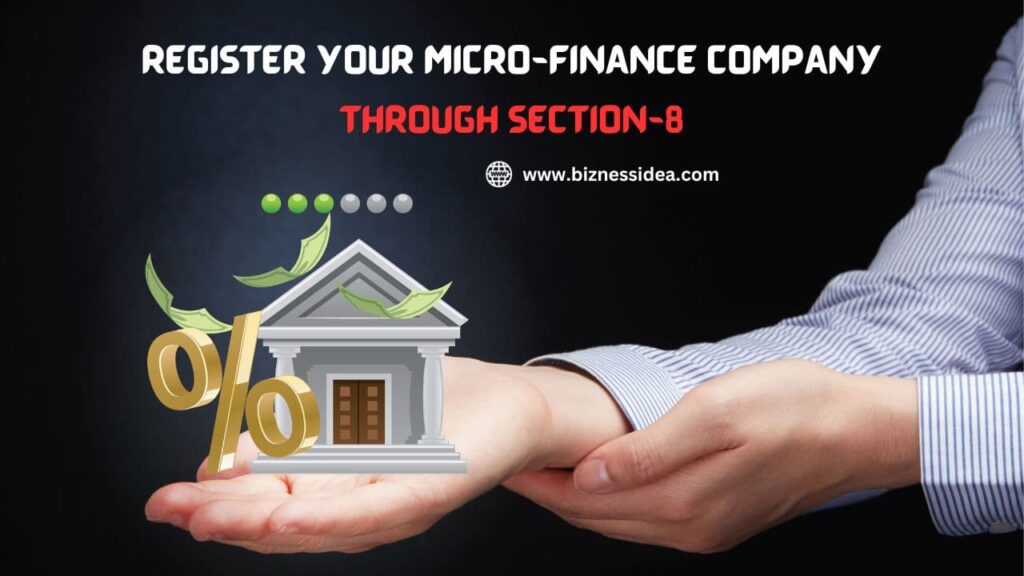 A non-profit organisation that qualifies as an MFI must incorporate with the appropriate authorities as a Trust, Society, or Company. These are the Indian Trust Acts of 1882, the Societies Registration Act of 1860, and the Companies Act of 2013. Micro-Finance, often known as Micro-Credit, must comply with Section 8 of the Companies Act 2013.
Registration of Non-Profit Microfinance Company through Section 8 of the Companies Act 2013
An NGO can be incorporated as a Corporation, Trust, or Society. Because the position of a Section 8 Company is always highly acknowledged in contrast to Trust or Society, Section 8 Companies have greater credibility among government agencies, donors, and other stakeholders. You may begin with a Section 8 company if you're interested in Starting A Small-Finance Company.
There are some of the important documents which are needed at the time of registration:
Copies of Directors'/Shareholders' PAN Cards, Aadhar Cards, and Address Proof (Utility Bill, Rent Agreement, Bank Statement, etc.) are required to Start a Non-Profit Microfinance Company.
Ownership evidence (utility bills, etc.),
NOC and address proof for the company's registered office
Starting A Small Profit-Making Finance Company in India
Profitable Small Finance Companies can be registered either as Non-Banking Financial Companies (NBFC) or Co-operative Societies. As per the RBI regulations, financial activities by a private institution can only be carried out by a company registered as a Non-Banking Finance Company (NBFC).
Starting A Micro Finance Company as NBFC
A Micro-Finance Company is a Non-Banking Financial Company (NBFC) that is in the business of microcredit to a particular type of borrower. It is a non-deposit-taking NBFC.
The RBI is the authorised organisation registered to provide an NBFC-MFI licence subject to capital standards compliance.
Model for deciding on the operation
Most MFIs employ groups to facilitate financial transactions. Nonetheless, there is a different method to interact with these organisations. MFIs are divided into two types: Self Help Groups (SHGs) and Greens.
NBFC-MFI shall have 10% of its total assets as loans meeting Qualifying Assets.
Borrowers' income in rural regions must be up to Rs.1 lakh, and in semi-urban areas, it must be up to Rs.160,000.
The loan amount shall be up to Rs.50, 000 in the first cycle and Rs.100, 000 in subsequent cycles.
The borrower's total indebtedness does not exceed Rs.100,000/-.
The NBFC must have a paid-up capital of Rs.2 crore.
Every NBFC-MFI is required to belong to all Credit Information Companies (CICs).
NBFC-MFIs must join at least one Self-Regulatory Organization.
NBFC & MFI shall have CIBIL membership.
Registration process
Register the Company
The first step is to register your Financing Bank as a company. You may start your Finance Company by registering it in India as either a private or public limited company.
Capital Raising
Since an NBFC Registration requires a minimum approved and paid-up capital of Rs. 2 Cr, this requirement must be met. So, after your company is incorporated, you must plan to raise the NOF to at least this amount.
No Lien Certificate
Deposit Rs. 2 crores as a fixed deposit and acquire the bank's Certificate of No Lien.
Sign up with the RBI
Submit an online application to the RBI to get your NBFC launched as a Small Finance Company in India.
Filing with the RBI
After applying, a physical copy of the application, including all essential papers, must be forwarded to the Reserve Bank of India's Regional Office. The following documents are needed to complete the registration process:
Director's/Shareholder's KYC and income proof
Director's Education/Professional qualification proof, along with proof of experience in the field of the financial services sector
Credential of Net Worth of the Directors, Shareholders, and the Company
Current Credit Reports for the Directors and Shareholders MOA and AOA of the NBFC showing the Financial/Investment/Lending business
Along with the CIC (Company Incorporation Certificate), a Banker's Certificate of No Lien confirming Net Owned Funds (NOF) of Rs. 2 Cr. should be acquired
Banker's Report on the Company and its Subsidiaries
A thorough action plan for the Loan Products, Fair Practice Code, Credit and Risk Assessment Policy, and Credit and Risk Assessment Policy.
Structure of the Organization
Decision-making Process for Loan Application Approval or Rejection
Conclusion
To summarise, Starting A Small Finance Company in India is difficult. Various requirements must be followed, and the procedure can be time-consuming. However, with careful preparation and dedication, it is feasible to Launch A Profitable Small Finance Company in India. Here are some essential things you can do to improve your chances of success. First, ensure that you have a thorough grasp of the applicable legislation and standards. Second, create a solid business strategy and regularly monitor your success. Finally, assemble a solid team of specialists to assist you in navigating the hurdles of beginning a business.
You may learn more about Launching A Small Finance Company in India by visiting the Ministry of Corporate Affairs website.
On Biznessidea, we feature articles on and about businesses, startups, and entrepreneurs. Biznesshub covers all kinds of business & startup-related articles, including entrepreneurs, etc.
FAQs
Q1. How do financial firms generate revenue?
Customers of finance companies, who can be both individuals and corporations, are given loans. This money is subsequently returned to the lender in equal monthly payments over a certain period, plus interest. The financial institution obtains its income from this interest.
Q2. What documents are required to Start A Small Finance Company in India?
The following documents are necessary to Start A Small Finance Company in India:
Memorandum of Association (MOA)
Articles of Association (AOA)
Affidavits for company registration
CA declaration
All KYC documents of the directors
Additional undertakings
Q3. How many funds would be needed to Start A Small Finance Company in India?
You must have sufficient funds to start lending money to your clients to Launch A Small Finance Company in India. To Start your Small Finance Company, you don't have to be wealthy.